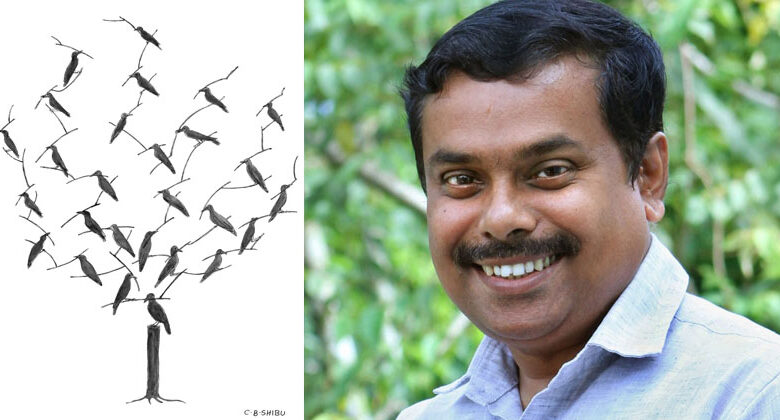 Illustrator CB Shibu was awarded at the 2022 International Cartoon and Illustration Exhibition for Humanity, organized by the China Daily Newspaper and the Wuxi Municipal People's Government. Shibu's film 'The Tree' won the Silver Prize.
He gets 20000 Chinese Yuan (over two lakh Indian rupees), trophy, certificate and portfolio book. The picture is drawn using pen and watercolor. Shibu was personally informed about the award. The award ceremony will be held in Beijing soon.
Applications through citizen portal cross one lakh; Local Self-Government Department with achievements in e-Governance
The competition was conducted with a focus on the concept of low carbon lifestyle. Images are invited that promote ideas for a better world that is more peaceful, prosperous and beautiful. Shibu submitted his pictures with the understanding of earth and man, survival of living things, global warming, environmental protection.
Shibu, ranked second globally, has previously been ranked third. This achievement brought CB Shibu into the company of world renowned artistes. He is a world-renowned painter and cartoonist and has received many international awards in the past.
KSEB has demanded to increase the fare during peak usage time from 6 pm to 10 pm
He has received many awards including national recognition by Hindustan Times, special prize from China, honorable mention four times from South Korea and invitation to represent the country at the Knockfest international cartoon fair held in Belgium.
In 2007, the artist Sibi Shibu gained the most attention in the world when he won the third place in the 24th Aydin Doğan International Cartoon Competition held in Turkey. Shibu bought this award in Istanbul. 2nd Our Heritage Jerusalem International Cartoon Competition 2018 again from Turkey and won 3rd place. In 2019, he won the 3rd position in the 1st International No Time for Liver Cartoon Competition of the Institute of Liver and Biliary Sciences, Delhi.
Traditional fishermen will be trained for deep sea fishing: Minister V. Abdur Rahiman
Award of Merit at the 9th International Cartoon Exhibition of the Municipality of Daniitos, Athens in 2022. Shibu's pictures have been shown in many countries like Turkey, Japan, China, Korea, Iran, Poland, Italy, Greece, Belgium and Mexico. The Ernakulam district administration honored Shibu with a cash award of Rs.
A fine art diploma holder in drawing and painting, Shibu Cheripadat is the son of late CN Balan and Shantamani. CB Shibu's work is painting, photography and drawing teaching.