From Amavasya, which comes before the festival, they take initiation and start Kankana Dharana, until the end of the Bunny Festival, they are very devoted. From the top of the hill, the idols return to Neraniki village and observe the rituals. For 12 days at least they observe complete celibacy without wearing shoes and without touching alcohol or meat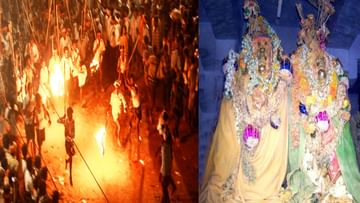 Devaragattu Bunny Festival
Devaragattu is ready for the stick fight. Everything is ready for the stick fight to be held at midnight on Vijayadashami. Locals call it Bunny Utsavam, a stick tradition. Otherwise, every year hundreds of people's heads are broken and blood is flowing.. It is surprising that this tradition continues even today. Dussehra is not only the festival of Navratri.. The time of sticks held in Devaragattu is also famous. Festivals of Mala Malleswara Swamy lit up on the hill in Devaragattu forests of Holagonda Mandal under Aluru Constituency of Kurnool District are the highlight.
According to Puranas:
During the Treta Yuga, in the dense forest of Devaragattu, which is about 2000 thousand feet above sea level, Munishwarlu decided to do great penance for the welfare of the world. As a part of that, every day they used to do penance in the caves of the hill. Demons called Munikasura and Mallasura in the hills came to Munula Tapasu disturbing their penance. Munulu .. Parvati begged Lord that while we are doing penance here for the welfare of the world, two demons are disturbing the tapasu. There is a history that both of them reached Devaragattu and in Kurma avatara, they came to Devaragattu after observing the shadow of the demons in the mountain cave. This Parvati Parameshwaru is known as Mala Malleshwara Swamy. After reaching the top of Devaragattu, Lord Malleswara goes to kill the demon with thousands of people. Demons are asked what is their last wish before slaughter. Demons demand human sacrifice. After saying that it is not possible and giving five drops of blood, the demon is killed. Locals say that it is those five drops of blood that every time the blood is spilled in the festival of sticks, it is unnecessary. From then on every Vijayadashami day after Mala Malleswara Swami Kalyanam, the tradition of these sticks is held.
Villages around Devagattu:
There are about 50 grams around Devaragattu. The villagers of Nerani, Nerani Tanda and Kothapet are special in that they take initiation from Amavasya which comes before the festival and start Kankana Dharana till the end of Bunny Utsavam. From the top of the hill, the idols return to Neraniki village and observe the rituals. For 12 days at least they observe complete celibacy without wearing shoes and without touching alcohol or meat. But the youth say that some unexpected incidents are taking place as some people from other villages drink alcohol and take part in the tradition of sticks, which mars the festival.
Safety Measures:
This is not all the difficulties faced by the organizers to organize the Bunny Utsav in a peaceful and traditional manner. Bindover cases of vandalizing natu sara manufacturing centers continue to be registered even a week before the festival. However, the organizers say that they are trying to reduce this tradition of drinking alcohol shortly before the festival.
Like every year, this time also hundreds of policemen are present for the celebration of Devaragattu sticks. At least more than two thousand people have been arranged. CCTV cameras, drone cameras are being installed at every step and floodlights are being installed. Sometimes there are cases where lighted divinities fall on those who come to see them. Iron eyes are worn on the end of the sticks, causing severe injuries when they are hit on the head. Collector Koteswara Rao SP Siddhartha Kaushal says that it is not possible for the district collector SP himself to go to Devaragattu and hold a review with the top officials of all departments to conduct the stick celebration peacefully. District Collector Koteswara Rao SP Siddhartha Kaushal says that facilities such as sanitation, parking, electricity, drinking water and medical facilities are being made available along with peace and security.
Bleeding every year:
The tradition of bunny festival in Devaragattu known as Karrala Samaram has also led to many criticisms. Some criticize it as a demonic sport, attacking old factions. At least a hundred people hit their heads every time. Human rights groups are also divided over this war of sticks
A 14-year-old boy named Mahesh came unannounced to witness the stick ceremony. In 2011, he fell in a stick fight and lost his life in a stampede. The family is still away from the Dussehra festival as the only child of the parents is their only son who died in a stick fight. The family is reduced to tears if they try to talk. They are unable to say anything out of devotion for fear that any criticism will affect the festivities.
Everyone wants the Bunny Utsav to take place in a calm and peaceful way this year without any untoward incidents happening.
Reporter: Nagireddy, TV9 Telugu
Click here for more spiritual news..
Note: (What is given here is based on belief. There is no scientific evidence for this. We have given it here keeping in mind the interest of people)