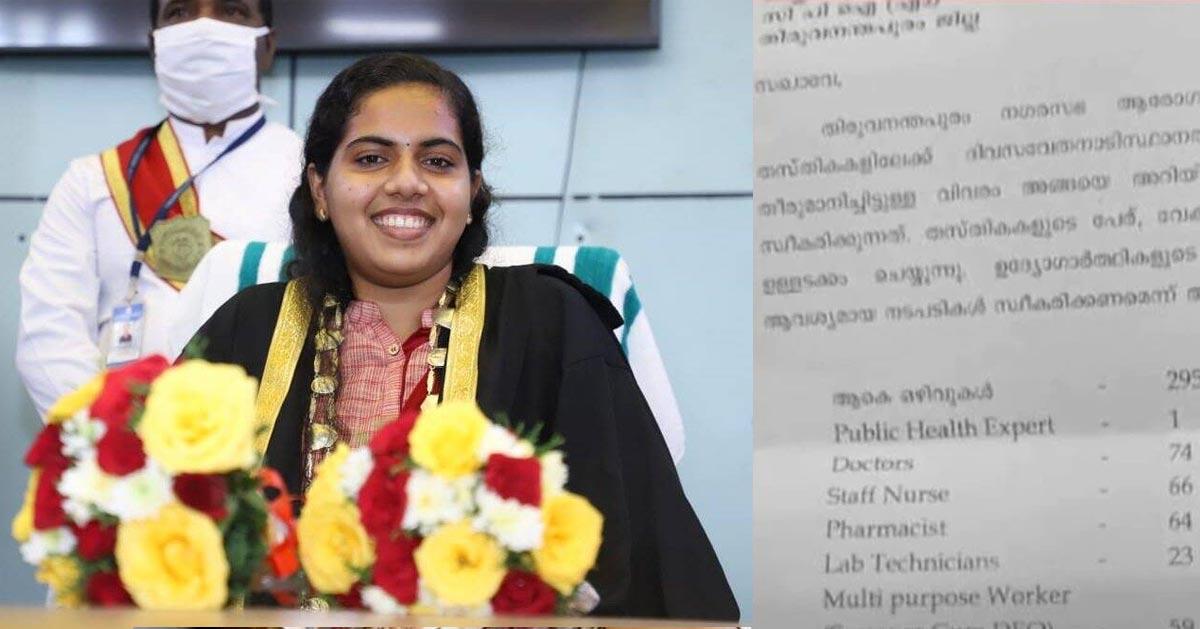 Kerala News
FIR that Padillaro falsified the letter; Crime Branch registered a case against the letter
Thiruvananthapuram: The Crime Branch has registered a case on a fake recommendation letter in the name of Mayor Arya Rajyandran, who requested the party priority list for temporary appointments in the Municipal Corporation. Sections of forgery have been charged on the complaint.
Sections 465, 466 and 469 of the Indian Penal Code have been imposed. The FIR says that someone tampered with the mayor's letter pad. The investigation is in the letter sent to the CPI(M) district secretary Anavoor Nagappan on the mayor's letterpad seeking the party list for the temporary appointment of 295 people to the health department of the municipality.
Arya Rajendran gave a statement to the crime branch team which conducted the preliminary investigation that the letter was not given to the district secretary of the party. The report of the investigation team is to find the original to confirm that the letter is fake.
The initial investigation team got only the screen shot. Neither the crime branch nor the police have been able to find out who drafted the letter. In this situation, the DGP issued an order accepting the recommendation of the crime branch to investigate the case.
In the case of destruction of the original letter, the crime branch can proceed to investigation including tampering with evidence and conspiracy only after finding out who prepared it. CPIM district secretary Anavoor Nagaappan and accused parliamentary party secretary D.R. Anil also did not give a direct statement to the crime branch team which conducted the preliminary investigation.
Meanwhile, opposition conflict is going on in the city council over the letter controversy. When the BJP councilors and activists came to protest, there was another conflict in the municipal council. BJP councilors protested by lying on the ground to prevent Mayor Diaz from coming.
The opposition came out with slogans and banners while the Mayor was speaking in Diaz. With this, the council meeting ended in conflict. The women police tried to take away the women councilors who protested lying in front of Diaz, but failed.
The opposition protested with go back calls. Four councilors were arrested and removed. The council meeting continued despite opposition protests.
Youth Congress activists who came to protest the letter controversy unexpectedly pushed into the municipal council. While the protest of Congress-BJP workers was taking place outside the municipal hall gate, the youth congressmen rushed into the municipal hall.
Immediately the police intervened and controlled the protesters. Later he was arrested and removed. The mayor reached the corporation after the police controlled the protesters
Content Highlight: Crime branch registered Case on Letter Controversy in TVM Corporation