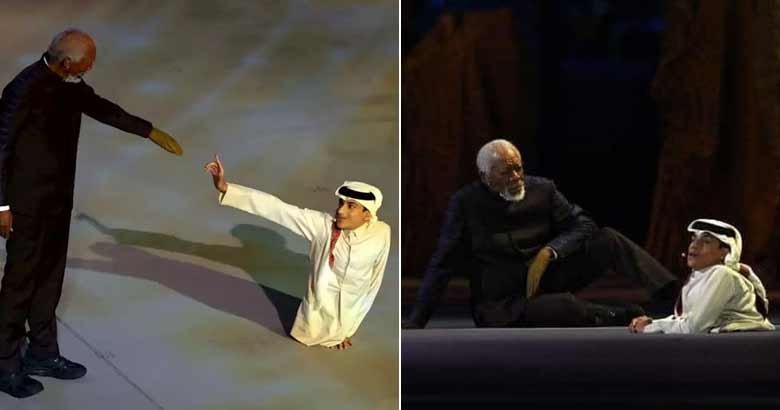 The word Ganim means winner of battle. Al Muftah, who added Ghanim to his own name, is the brand ambassador of the Football World Cup in Qatar. It is Qatar's position to make Ghanim the brand ambassador. Ghanim Al Muftah, who is differently abled, received a standing ovation yesterday when he took to the opening stage with Hollywood superstar Morgan Freeman.
The picture of Freeman on the ground with Ghanim, who is stunted below the waist due to a rare disease called caudal regression syndrome, will go down in World Cup history.
What Ghanim says about himself: I am Ghanim Al Muftah and am stunted below the waist due to a rare disease called Caudal Regression Syndrome. This is a disease that stunts the growth of the spine. But my parents did not get tired of this.'
' The very name they gave me is proof of that. They chose for me the name Ganim, which means winner of battles. I want to show the world that if we have confidence, we can make all our dreams come true. No one can hold you back from your dreams.'
ALSO READ- Proud of Kerala…! Qatar's love loan by writing 'Nandi' in Malayalam at the entrance of the World Cup stadium
It was Ghani who started the opening ceremony of the World Cup at the Al Bait Stadium with the recitation of the Quran. Actor Morgan Freeman, who came to the stage later, took off his star costume and talked to Ganim on the ground, and the world has taken over the picture.
Ganim, who was born in May 2002, was diagnosed with the disease during pregnancy. Many advised the parents to have an abortion saying that the birth of a differently-abled child would bring lifelong grief, but they refused.
They welcomed Ganim into the world and stayed with him all this time as his son's legs. Ganim responded positively to the taunts he faced during his studies. He corrected them by telling them about his illness. The disease only stunted Ganim's physical growth. This young man's life was growing. Today, 20-year-old Ghanim is the youngest entrepreneur in Qatar.
ALSO READ- Husband Stands By, 68-year-old Honey Trapped By Pretending Love, Prominent Vlogger Extorts Rs 23 Lakhs, Case
Ganim owns Garissa Ice Cream, a company with six branches and 60 employees. He is a leading YouTube vlogger in Qatar. It has millions of followers from all over the world. He was climbing the ladder of fame as an ambassador and goodwill ambassador of various brands. Ganim is also an outstanding actor in the field of sports. Ganim is also a swimmer and scuba diver.