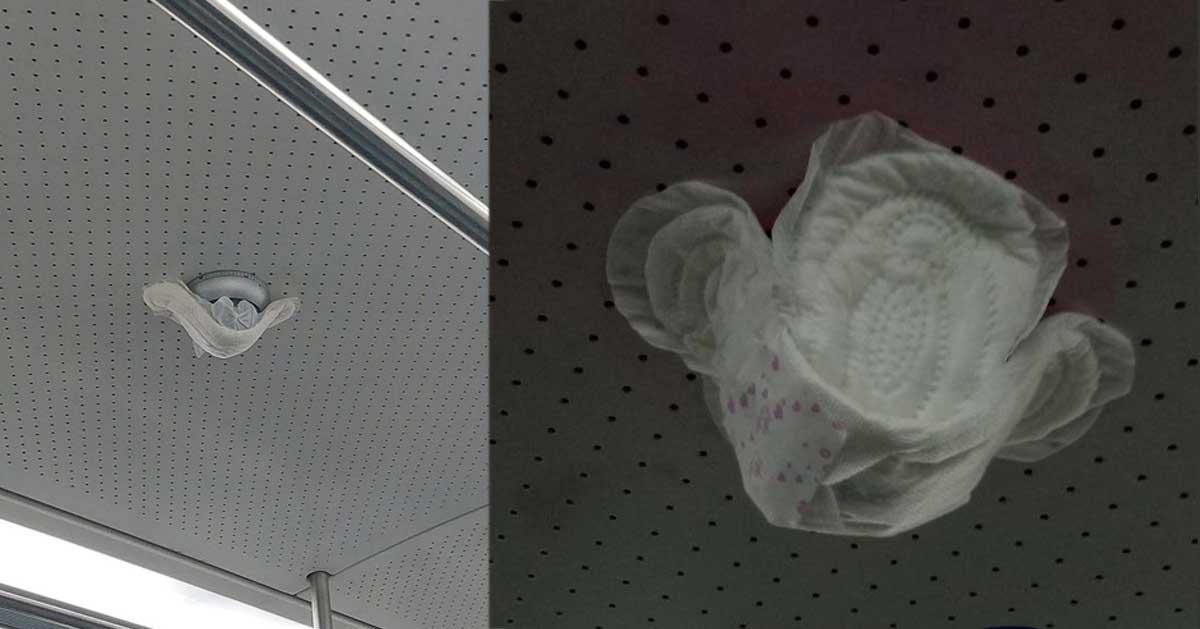 New fight against surveillance cameras; Iranians 'Weaponize' Sanitary Pads
Tehran: Protests are intensifying against the actions of the Iranian security forces who fired at those who protested the death of Mahsa Amini.
Iranian women are protesting by covering the security cameras installed by the authorities to monitor them with sanitary pads.
Many videos of CCTV cameras installed in metro stations and trains being covered with sanitary pads are also widely circulated on social media.
I kept my menstrual cycle hidden from everyone for months because it was taboo #Iran to talk about it. Imagine purchasing pads! We have to put it in a black plastic bag. It's heartwarming to see #women now using their pads to cover the regime's security cameras. #IranRevolution pic.twitter.com/qZMZDfEiJL

— Shukriya Bradost (@ShukriyaBradost) November 17, 2022
Next to some of the covered security cameras, the names of political dissidents in Iran who were imprisoned or killed during the protests can also be seen.
People are covering surveillance cameras in Iran's public transportation with menstrual pads. Is there a better statement possible on gender, surveillance & resistance? #حسين_رونقي next to it is a reminder that resistance also exists in cyber spaces despite the cyber surveillance pic.twitter.com/AoXrQgX16d

— Azadeh Akbari (@AzadehAkbari) November 17, 2022
Security forces opened fire on protesters at a metro station in Tehran, the capital of Iran.
Iran's security forces repeatedly fired into a crowd of protesters at a Tehran metro station today.

Tehran's residents have been frequently chanting slogans against the regime in the city's metro stations during the protests.#مهسا_امینی #MahsaAminipic.twitter.com/ncVjWK3q4n

— Shayan Sardarizadeh (@Shayan86) November 15, 2022
Following this, the people of Iran started 'fighting' using sanitary pads to prevent the authorities from monitoring them and enforcing the women's 'dress code'.
Images spread by 'Blocking Metro Car Cameras Using Health Bar'#مهسا_امینی pic.twitter.com/JNNXEQiZSX

— Vahid Online (@Vahid) November 16, 2022
Social media users are celebrating the move as a strong statement against the control and surveillance of women who have been at the forefront of the series of protests over Amini's death.
Mahsa Amini, a native of Saqqez, Iran, was killed while in the custody of the moral police for allegedly not following the hijab dress code. Later, women took to the streets in large numbers to protest Amini's death, pulling their hijabs off their heads, burning them and cutting their hair.
The moral police arrested 22-year-old Amini on the charge of not following the hijab dress code. He was arrested while traveling with his family to Tehran. Amini was killed three days later on September 16.
Eyewitnesses revealed that Mahsa was beaten by the police in the police van.
After Mahsa Amini's death, protests broke out across Iran and internationally against the Iranian regime and the moral police. The protestors demand that the hijab law be withdrawn and the morality police system be abolished.
Content Highlights: Iranians use sanitary pads to fight against the surveillance of women by government and security forces