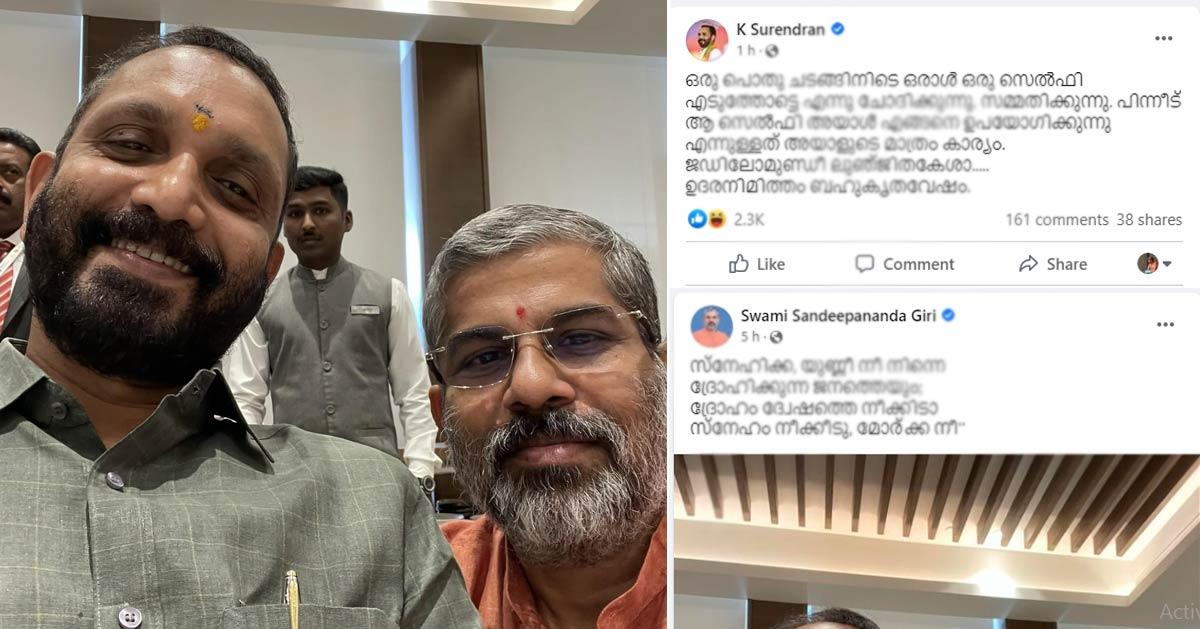 Kerala News
'Jadilomundi Lunghitakesha…'; Sandeepananda Giri and Surendran with selfie war on Facebook
Thiruvananthapuram: BJP state president K. Selfie war between Surendran and Swami Sandeepananda Giri through social media.
Swami Sandeepananda Giri first posted a selfie on his Facebook account when he arrived at the inauguration of Lulu Group's Hyatt Regency Convention Center in Thiruvananthapuram. K. followed with a reply post. Surendran also arrived.
'Love, Yunnee, you
and the people who harm;
Malice does not remove hatred
Swami Sandeepananda posted a selfie with Giri Surendran with the caption 'Sneham nikeedu, morka ne'.
Later, K. replied to this. With Surendran also coming with a Facebook post, the incident is being discussed in the social media.
A person asks to take a selfie during a public function. agree Later, Surendran responded that how he uses that selfie is up to him.
'Jadilomundi lunjitakesha…..
Surendran also added in his note that 'Bahukritavasham for the belly'.
Earlier, Swami Sandeepananda Giri had criticized Surendran's mocking picture shared on his Facebook page with the caption, "Police taking away the accused in the ashram burning case".
'How dirty Surendran's mind is like a bunch of onions; Sandeepananda Giri responded.
The case of the burning of Sandeepananda Giri's Ashram took a turn recently. It was revealed that the ashram at Kundamankadavu, Thiruvananthapuram was set on fire by local resident RSS worker Prakash and his friends.
This was revealed by Prakash's brother Prashanth. This revelation, four and a half years after the incident, has led to many political controversies.
Crucial information also came out in the ashram burning case during the investigation related to the mysterious death of RSS leader Prakash.
On October 27, 2018, a fire broke out in the Ashram of Sandeepananda Giri, and three vehicles, including two cars, were burnt and the ashram was damaged. After burning, the attackers also placed a wreath in front of the ashram with the words "Adaranjali" written on it.
Even after four years, the police could not find the accused in the ashram burning case. Initially, a special team of the city police investigated, but after receiving no information, the crime branch took over the case.
Swami Sandeepananda Giri had taken a stand in favor of the state government on the Sabarimala youth entry issue. Due to this, there was a widespread campaign and threats against him. After this, the ashram was burnt.
Content Highlight: Swami Sandeepananda giri and BJP Leader K Surendran Fight on Social Media