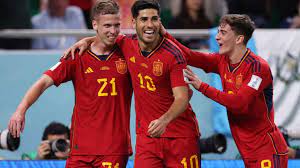 Spain-7 Costa Rica-0
(Danny Olmo, Marco Asensio, Ferran Torres-2, Gavi, Soler, Alvaro Morata)
Pass, pass and pass. Former world champion Spain started campaign in Qatar World Cup with the ultimate example of passing football. 1043 passes played by Luis Enrique's boys. Ball possession was 82 percent. It is understood that Olmo, Asensio or Ferran Torres have turned Costa Rica around with a rope. It was sad to see Costa Rica captain and goalkeeper Keylor Navas. He was once Real Madrid's number one goalkeeper. Real has won many matches. Now he has changed his team and went to Paris Saint-Jean. But even there he is not number one. But his price in the country has not decreased yet. Still playing the World Cup at the age of 37. But in the last World Cup, the shirt got a big stain.
There is no point in blaming Navas for this. While football pundits were very worried about the future of Tiki Taka, because Barcelona is not as dependent on Tiki Taka anymore. But the former coach of Barcelona brought back Tiki Taka. The World Cup is the biggest show case of football. And this great win by Spain sent a great message to the rest of the teams. Wait, here we come. No one was giving Spain much credit this time. One of the reasons is that the team is full of new players. There is only one player from Spain's Golden Age in this team. He is captain Sergei Busquets. But what the newcomers did was a flood of goals in Qatar's dry weather. A few days ago England scored six goals. France scored four goals yesterday. These are all big wins. But Spain put everyone on the shelf. Their dominance was so great that goalkeeper Unai Simon did not have to handle a single difficult ball. Who is the champion team? On Wednesday, four-time world champion Germany unexpectedly lost to Japan. Lionel Messi lost to Saudi Arabia on Tuesday. When the conditions of the elite teams are bad, Spain's victory like a proud flag raised its red and yellow flag in world football.
There is not much to say about the one-sided match. But even if he didn't score, Spain's left back Jordi Alba has to be talked about. All the while he overlapped the left side so much that it looked like he was left out. And with him, the two attacking midfielders Gavi and Pedri started playing so many passes from the beginning that it was only a matter of time before the three forwards, Ferran Torres, Marco Asensio and Dani Olmo, would score. It started at eleven minutes. Dani Olmo caught Alba's cross from the left and caught Navas off guard with a superb right-footed shot. The goal's floodgates that opened never closed. It lasted for 92 minutes. Such goal hunger can pull Spain far. We have to see how their defense plays in tough matches.
In the twenty one minute, Marco Asensio followed a single ball from behind and scored. And in the 31st minute, Ferran Torres scored the third goal from the penalty. The match ended in the first half. But the Spaniards' hunger for goals showed no signs of abating. Ferran Torres scored again in the fifty-fourth minute. He is also coach Luis Enrique's future son-in-law. Torres gave his future father-in-law a pair of goals in the first match. After that Gavi (74th minute), substitute Soler (90th minute) and another substitute Alvaro Morata (92th minute) scored, Spain's goal machine stopped like this day. Germany and Japan are in this group. Spain will go to the next round from Group E. Now to see who goes with.
The post That tiki taka is back again, Spain starts with seven goals against Costa Rica appeared first on Kolkata TV.