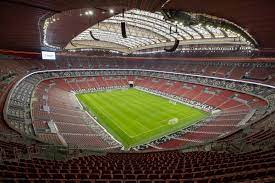 Finally the wait is over. This year's World Cup football will start at 7 pm local time at Al Bayat Stadium in Qatar's capital Doha on Sunday. The opening match will be played between host country Qatar and Latin American Ecuador. These two countries do not have a good reputation for football excellence. But the opening of the World Cup is said. For that, 60,000 stadium tickets have been sold. There is a grand opening ceremony before the opening match. Beautiful singers, dancers from all over the world will participate in it. India's Noha Fateri is in this list. However, it was initially rumored that Colombian pop singer Shakira would perform at the opening ceremony. But in the end it is known that he is not coming.
The World Cup is usually held in June-July. But it is difficult to leave the house in Qatar weather in June-July. So this season is sitting in winter. There could be both advantages and disadvantages for the stars in hosting the World Cup in this first winter. Most of the world's stars play in Europe. Stars are appearing in the World Cup playing in their country's leagues. Another year, after the leagues of different countries are over, the stars come to play in the World Cup after three weeks of rest. It won't happen this time. Everyone is coming to the World Cup to play. So Messi, Neymar, Ronaldo, Mbappe, Müller, Leyondoski are pretty much in the game. Just give them the time they need to adapt from the club team to the national team. Kafu, the legendary footballer, thinks that going to the World Cup to play club football is an advantage for footballers. The World Cup winning captain of Brazil arrived in Kolkata a few days ago. There he said, "It will benefit the footballers." Time will tell whether Kafu will agree or not.
Who will be the champion of this world cup? Thomas, an English betting company, claims that England will be the champions. Thomas predicted Germany would be champions in 2014 before Harry Kane predicted. And in 2018 France said. Both are matched. This time, if their horse England becomes the champion, then there is no surprise. England's performance graph is very good now. In 2018, they were semi-finalists in the World Cup. They were runners-up in last year's Euro Cup. So there is nothing surprising if he becomes the champion this time. And England have retained the same team for the last four years. The coach is the same. That Gareth Southgate. There are no injuries in the team. So they are heavy favorites to win the championship.
France is the last champion. Two consecutive World Cup champions do not usually happen. In 1958 and 1962, Brazil became champions twice. No one else could achieve that feat after him. It is very difficult for France to become champions this time. Their two best midfield players Paul Pogba and N'Golo Kante are out due to injury. Those who will play instead of them are less qualified. Experience is even less. Therefore, France is not considered to be the champion of this year. The remaining three countries from Europe can do well. These are Germany, Spain and Belgium. Germany is the 2014 champion. But last time they were eliminated from the first round in Russia World Cup. Seva lacked their goal scorers. This time, however, there is no shortage of people to score goals. There is Thomas Mueller. Along with Leroy Sane, Kai Havertz, Serge Nabrira are also capable enough to score goals. Manuel Neuer is reliable in goal. Now let's see if Nyer can recover from skin cancer and become the champion of Germany. One more thing going in Germany's favor. Most of their players are from Bayern Munich. Coach Hansi Flick is also ex-Bayern. Germany has this advantage.
Spain is not bad either. But they don't have the players of their golden age. Coach Luis Enrique is relying on newcomers. To see how much these newcomers can pull Spain. And there is Belgium. They are progressing very nicely. Theoba Courtois is the number one goalkeeper in the world in goals. In midfield, Kevin De Bruyne can turn the match at any time. Eden Hazard or Romelo Lukaku in the forward are always the terror of the defenders. This goes to be optimistic about Belgium.
Brazil and Argentina were left out. Brazil is a five-time champion. They haven't won the World Cup in a long time. That won in 2002. But this time they are one of the contenders to win the cup. Their front is great. With Neymar, Richarlison, Gabriel Jesus, Vinicius Jr., Rodrigo – Coach Tite may have a problem with who to play. Brazil is one of the contenders to win the cup because there are more goalscorers. Two great goalkeepers under their goal posts. Liverpool's Alisson Baker and Manchester City's Ederson Santana. Brazil has not had such a good goalkeeper for a long time. There are two veterans with the newcomers in the defense. Dani Alves and Thiago Silva. All in all, the Brazilian team has a lot of logistics to become champions. What will Lionel Messi's Argentina? According to the table, if Brazil and Argentina are number one in the group league, they will meet in the semi-finals. This is Messi's last World Cup. He will want to finish the World Cup as a champion. But his team is enough to reach the semi-finals. Now let's see how much Messi, defender Nicolas Ottemondi, forward Angelo Dimaria or goalkeeper Emiliano Martinez can lead their team.
Apart from these teams, others are not considered as champions. Cristiano Ronaldo's Portugal can also be placed in this list. Their run ends in the quarterfinals or not.
The first female referees will officiate the matches in this year's World Cup. FIFA has selected three referees and three assistant referees for this. Qatar World Cup final ticket price is 66 thousand rupees in Indian currency. But there is no problem. Football lovers from all over the world are gathering in Qatar. But they will not get beer in the stadium. The Qatari government has banned the sale of beer in stadiums. But true football fans have no problem with that. The FIFA president said that people will not die without drinking beer for three hours. that's right People have gone to watch football. The rest of life is spent drinking beer.
The post Qatar World Cup starts on Sunday, Brazil and England favorites to become champions appeared first on Kolkata TV.