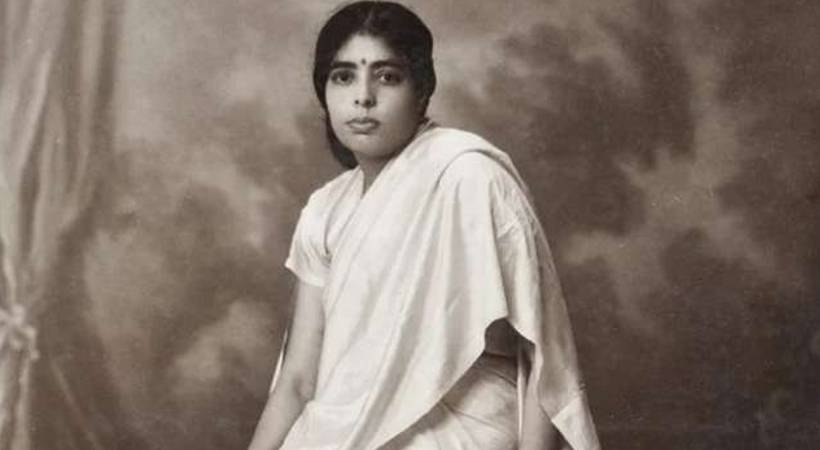 Histories often become his stories. If we take the scientific contributions that are part of the history, an Indian will have enough historical backing to rank the number of male scientists in the front row. But if you look at how many women will be among them, you can hear the voices of women drowned in the patch of male heroes. At the forefront of that list is Janaki Ammal, a unique talent who has been considered late.
Janaki was honored as the first botanist in India, the first woman professor of botany in India, the scientist who was directly invited by Prime Minister Jawaharlal Nehru to reorganize the 'Botanical Survey of India' in independent India, a researcher who worked in the continents of Asia, North America and Europe, and the woman scientist who proved the possibility of 'interspecies hybridisation' between plant species. Amma. How many people even know that this brave woman, who worked solely on her own resources, was the foremost Malayali Talasserikari in the early 19th century when women did not have a respectable position. Even though the recovery of Indian women in science is a huge effort, the life of Janaki, who was born in 1897 to an ancient Theiya family in Chetamkun, Thalassery, has been largely forgotten. Janaki's father EK Krishnan was a High Court Sub-Judge in the Madras Presidency of British India.
Throughout her life, Janaki Ammal lived with plants and flowers. Janaki used to take care of large gardens always facing the windows of the house. Although he had the conditions for education at home, Janaki, who belonged to the Theiya community of Kerala, who were considered socially backward at that time, pursued his goals by shedding the perverse and backward attitudes of the caste system.
She wasn't going to let anyone stop her. If someone discouraged her, Janaki would rise above it and move on, says Savitri Preeta Nair's biography of Janaki Ammal, 'Chromosome Woman, Nomad Scientist: EK Janaki Ammal, A Life 1897-1984'.
After completing his schooling, Janaki went to Madras for higher education. In 1924, she was teaching at a women's college when she received a prestigious scholarship from the University of Michigan in the US. Eight years later, Janaki became the first Indian woman to earn a doctorate in botanical science.
She soon returned to India and Janaki focused on studying botany before joining a sugarcane breeding station in Coimbatore. It was here that Janaki worked on crossbreeding sugarcane with other plants to develop new, high-yielding varieties of sugarcane that could thrive in India.
The breakthrough, made during sugarcane research at the Imperial Sugarcane Station in Coimbatore in the 1930s, was published in the world's leading scientific journal, Nature.
But Janaki Ammal did not get the credit for it. Disgruntled that Janaki's work did not even get the recognition it deserved, Janaki once said, "My works do not get the recognition they deserve – there is not even a mention of my name. That is India, don't you even think I deserve 'Fellow of the Royal Society' (FRS) recognition,"
Read Also: Qatar World Cup; The first goal scored by Ecuador was sunk in the law of war
A Fellow of the Royal Society is an award given by the Royal Society to individuals who have made significant contributions to the fields of mathematics, engineering, health and the natural sciences. This proves that Janaki's situation was no different abroad as she was not well recognized even in her own country, India.
Janaki was awarded the FRS for her outstanding contributions to the fields of plant cytogenetics, breeding and cytogeography, as well as for her outstanding work on British soil during World War II. If that had happened, Janaki would have become the first non-white female scientist to be recognized by the scientific establishment. But it didn't happen.
Janaki moved to London in 1940, shortly after the outbreak of World War II, where he joined the John Innes Horticultural Institute and continued his research. During all those times, the karmic mind of Janaki toiled through the ravages of war on Britain.
Nazi Germany began strategic bombing of the UK on 7 September 1940 and continued until 11 May 1941. Sixteen British cities were destroyed in that heavy air raid. More than 40,000 civilians were killed. There were even 57 consecutive nights of bombing.
A letter written by Janaki during this time clearly shows the face of a brave woman who defied the adverse conditions of the day with mental strength, Janaki said in the letter.
'Air raids are going on day and night, sirens are sounding. You can't imagine the terror London is going through, but I'm not panicking. I don't even regret getting involved in all of this. Life isn't worth it without a sense of danger.'
Amid war conditions, Janaki wrote to her brother in 1943 wishing her a happy New Year. 'All I wish for this New Year is to be able to write to India more often. I'm not dead yet! So you have reason to be happy'.
No matter how many times the family called her back, Janaki was scared and refused to back down. She kept fighting for the goal in her limited situation. Janaki, who deeply loved the science of plants, attributed all the joys and sorrows of his life to his karma. Even during the bombardment, Janaki did not interrupt her work, crawling under the bed and table and returning to work when the bombardment was over.
On May 18, 1945, Britain and the Western Allies achieved victory over Hitler's army. But then what awaited Europe was a great food shortage. Meanwhile, atomic bombs were dropped on Hiroshima and Nagasaki in August. In a world devastated by atomic bombing, Darlington and Janaki's 'Chromosome Atlas of Cultivated Plants' was published. It was a good product of war.
Even today, the atlas remains a reference manual for science students. But the time of its birth, the horrors of the times, are still unknown to many.
Meanwhile, she also became the first female scientist to work at the Royal Horticultural Society Gardens at Wisley. Janaki Ammal worked every phase of her life, enjoying it. No amount of terror could sway that rigorous scientific mind.
In 1951, Prime Minister of India Jawaharlal Nehru asked Janaki to return to the country and reorganize the Botanical Survey of India (BSI). Janaki immediately returned to India. But her male colleagues refused to accept commands from a woman and rejected her efforts to reorganize the BSI." It is also clearly recorded in the biography that Janaki was not fully accepted in the institute.
This caused her great pain and Janaki could not fully recover from it.
In 1948, Janaki became the first woman to go on a botanical expedition to Nepal. Botanically it was the most unique event in Asia. When she was 80, the Indian government honored Janaki Ammal with one of the country's highest civilian honours, the Padma Shri. Janaki Ammal, a brave woman scientist, died in 1984. Although Janaki did not get the recognition she deserved in the pages of history, her passion for learning life never deterred her from her duty. Savitri Preeta Nair recorded in her biography that Janaki Ammal used to say that even if I die, my contributions will live on. Janaki's life remains a shining testimony of intellectual integrity even today.