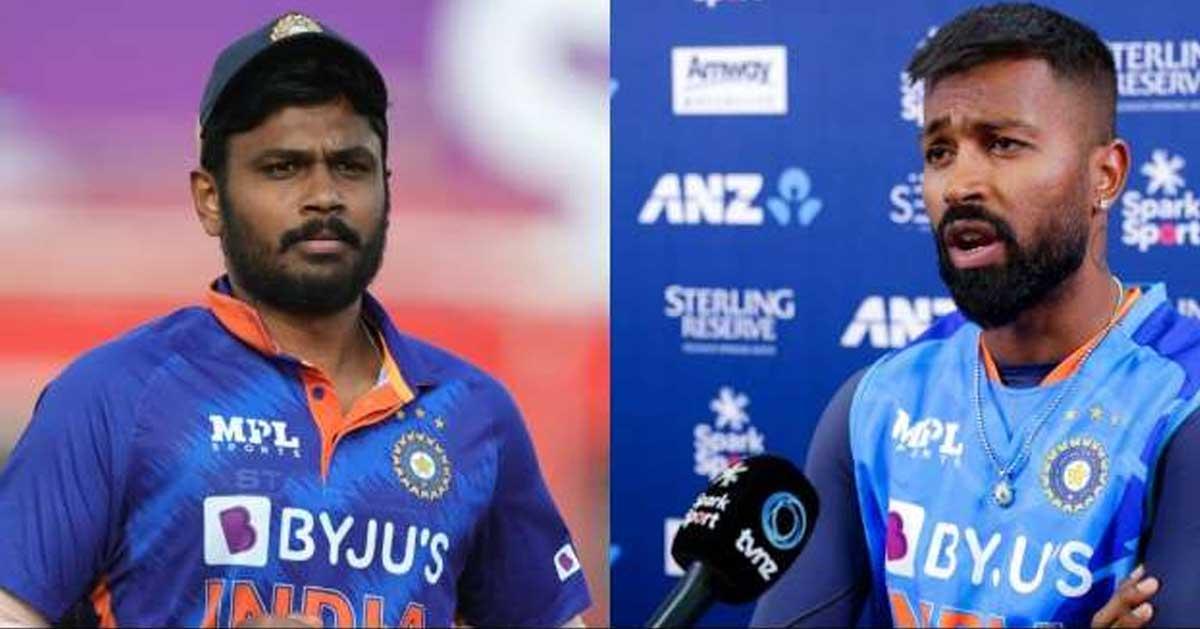 Why Sanju was not played; Hardik with explanation
Sanju Samson was left out of the third T20 match against New Zealand and the fans came out with strong criticism. The star did not get a chance in both the matches of the series.
Only the three-match ODI series is now in New Zealand. The team management was not ready to play Sanju in the second T20 match as well.
India played the last match with only one change in the team for the second T20I. Apart from Sanju, India also dropped Shubman Gill, Kuldeep Yadav and Umran Malik in the series.
Sanju Samson, Shubman Gill, Kuldeep Yadav and Umran Malik were not included in the playing XIs for the #NZvIND T20I series

Hardik Pandya explains the selection calls pic.twitter.com/gmRDkd4GP3

— ESPNcricinfo (@ESPNcricinfo) November 23, 2022
But Indian captain Hardik Pandya has come up with an answer as to why Sanju and Umran were not played.
He was speaking after the match. Hardik said that they wanted to play Sanju and what happened to him was unfortunate.
"First of all, this is my team. The coach and I choose the team that we think is the best. There is still a lot of time. Everyone will get a chance.
Hardik pandya not giving a chance to sanju samson shows his insecurity as sanju is also a future captain material of india.#SanjuSamson #NZvINDonPrime #NZvsIND #HardikPandya #RishabhPant #DonaldTrump pic.twitter.com/Zv1leW2RbZ

— ROMEO (@romeyo369) November 20, 2022
Those who perform well will get more opportunities ahead. But since this is a small series, it is difficult for everyone to get a chance. If this was a longer series with more matches, naturally more people could have been included.
Sanju's is an unfortunate situation. We couldn't play him for some tactical reasons. Understanding the mentality of the players including Sanju. Being a cricketer is very difficult. No matter what anyone says, Sanju is a part of the Indian team.
Now I can say anything with beautiful words. Only those who have faced it will understand its difficulty. But it is necessary to create a healthy environment within the team.
Sanju Samson averaged 44.75 in T20Is this year, striking at 158.40

However, he did not feature in #NZvIND T20I series; Hardik Pandya spoke about the selections

— ESPNcricinfo (@ESPNcricinfo) November 23, 2022
Players can come and talk to me directly if they have any problem. Or share with the coach. I don't think it will be a problem if I continue as captain. Because I believe that I am the one who thinks that the team is united and everyone is together,' Hardik clarified.
Meanwhile India – New Zealand 3rd T20 was abandoned due to rain and India went on to win the series. While the first match was interrupted by rain, India won the second T20I to win the series.
Reporter asked "people are asking why didn't u give chance to Sanju Samson & Umra" to Hardik. His reply was " I don't care what people are saying. This is my team and I will play whom I want"

Those words show the level of arrogance in them to keep discriminating Sanju pic.twitter.com/IeVhIc75yY

— (@Brundletu24) November 22, 2022
The rain came when India batted towards the target of 161 runs set by New Zealand in the third match. India were 75 for the loss of four wickets when play was suspended. Later the game could not be continued and had to be abandoned.
Captain Hardik Pandya remained unbeaten with 30 runs off 18 balls and Deepak Hooda with nine runs off nine balls. Meanwhile, the openers Ishan Kishan and Rishabh Pant gave a disappointing performance.
Content Highlights: Hardik Pandya explains the selection calls